Official GDP numbers from the US and Europe last week mostly told us what we already knew: the second quarter of 2020 was the worst ever recorded. In the US, newer headlines came from stubbornly high unemployment in the week leading up to July 25. As has become the norm this year, financial markets ignored the bad news and equities notched up a rise for the week. Investors are still banking on the Fed and fiscal authorities to keep money cheap and the economy on a path to recovery. China has shown that it's possible to pull quickly out of a corona recession. But China, as other nations in the Asia Pacific region, brought infection rates way down before reopening, and followed up with swift and effective regimes for testing-tracing-treating/isolating to control outbreaks. Even so, Covid-19 has proven hard to quell. Australia's recent experience in particular sounds a warning for winter in the Northern Hemisphere.
Will the pandemic hurt diversity in finance, as childcare and virtual schooling impact women more than men? Listen to the latest episode of Finance Forward with Lisa Shalett, investor and former Goldman Sachs partner, discussing these issues with Afsaneh Beschloss and Caroline Atkinson.
In the US, GDP contracted by 9.5% during April-June, on top of a drop in Q1 (the annualized decline, for what that's worth, was 32.9%). In Europe, the data were even worse, with declines of over 10% quarter-on-quarter for the large economies. On the other hand, China reported gains of 11.5% quarter-on-quarter in Q2.

We know that recovery began in May and June, as lockdowns eased and people were able to go out and about again, including on vacation. More interesting is whether that gradual uptick has continued in July, as Covid-19 cases have surged in the US and, in Europe, renewed outbreaks led governments to clamp down again last week. For Caroline Atkinson, RockCreek Senior Advisor and an author of this weekly letter, flying into London from Dulles on Wednesday was a strange experience. A trip that used to be second nature became unfamiliar with faceshield, mask, social distancing in an empty airport, no desire to risk airplane food and drink, and extra forms to reassure British officials of compliance with the two-week quarantine and self-isolation required for visitors from the US. Normal life is not yet around the corner.
Three observations and the takeaway for investors
1. The CARES act was remarkably effective in supporting personal incomes; less so in distributing help to the most needy businesses

The GDP data showed an extraordinary 7.3% jump in personal incomes in the second quarter – due entirely to government support programs such as the stimulus checks and temporary expansion in unemployment benefits. Sadly, congress did not get any closer last week to agreeing on an extension of this support, which has now run out.

The impact on incomes was already tailing off in June. Unless Congress and the Administration agree soon on a new fiscal package – which many still hope for, but RockCreek would not put very high odds on – incomes and recovery will likely stall during Q3. Even so, the Q3 GDP data that will come out just before the election will show a sharp rise from the average depressed level in Q2. It is possible that spending will keep up even if incomes dip: another feature of lockdown was that personal savings shot up last quarter. The problem: as we have noted earlier, there was a sharp dichotomy between Americans at the lower end of the income scale, more of whom lost their jobs and spent extra income from government programs on basic needs, and those better off and able to work remotely, who cut back spending on services where many are employed. Not an easy one to fix.

The Paycheck Protection Program, PPP, has fans from across the political spectrum. But a new study by Accountable.US as well as the Small Business Administration's data, indicate that minority-owned companies had to wait longer and received less cash from the program than those in majority white communities. The first round of PPP loans supported 27% of businesses in majority white neighborhoods and only 17% of those in mainly minority areas. Congressional districts with the lowest Black population received over 64,000 more PPP loans than the 10 districts with the highest Black populations. RockCreek's research shows that similar trends apply to access to funding in the private sector for diverse portfolio managers.


2. Tech titans still rule; but they are in politicians' sights

We have seen two remarkable divergences affecting markets in the corona recession of 2020. Government action was mainly responsible for the first, the persistent disconnect between the real economy and financial markets. The pandemic way of life has caused the second: the growing dominance of a few large tech firms in US equity markets. Last week highlighted the latter. As the four of the big five companies – Alphabet, Amazon, Apple and Facebook – reported better than expected earnings, markets gave a vigorous thumbs up. Never mind that, just the previous day, the CEOs of these companies were grilled by Congress over their power. Markets may be wrong to shrug off the regulatory threat, which looks likely to increase whoever wins in November. The fifth company – Microsoft – has shown that hubris and success can aggravate regulators and politicians, but also that it is possible over time to recover and thrive.

3. As the clock ticks towards a vaccine, geopolitical concerns are more pressing

In the early days of the global pandemic, it was possible to hope that it could be addressed successfully without new drugs or a vaccine. Recent weeks show that would be a dreadful way to get to herd immunity: costly in terms of lives and also livelihoods. Renewed outbreaks of disease have led to renewed shutdowns – albeit partial – just in the last several days. The latest pull back by UK Prime Minister Boris Johnson was described as a "hammer blow" by British Chamber of Commerce leader Claire Walker.

Scientific progress towards a vaccine is impressive. A number of possible vaccines, including with different technologies, are already going into the critical phase three trials. These trials, with large-scale testing for efficacy on different types of patient, as well as for safety, are the last stop before regulatory approval. But against this good news is the concerning fact of rising geopolitical tension, and barely concealed competition for resources even among friendly nations. If countries fight over which vaccine is safe enough, who controls which drug, how the manufacture, packaging and distribution should take place and whose population is vaccinated first, it will take much longer to reach the goal of crushing Covid-19.

Global cooperation is urgently needed, and would be in every country's interests, as laid out in Foreign Affairs by Thomas Bollyky and Chad Bown, trade expert at PIIE. They argue for a special trade agreement to govern production of a vaccine, pointing to the unhappy experience in the early days of the pandemic when individual countries hung on to supplies of PPE and, more recently, the drug remdesivir, in a way that interrupted supply chains and left everyone worse off. This is a classic prisoner's dilemma. Can it be resolved?

4. Investor Takeaways

Markets continued to react positively to mixed news this week – the norm during these past few months. US stocks climbed Wednesday as Chairman Powell reiterated the Fed's support for an economy battered by the pandemic. Major indices opened mostly higher and gains accelerated after the Fed, as expected, left rates near zero at the end of its policy meeting. He noted again that the fate of the economy depends on containing the pandemic. Also this week, US stocks reacted slightly negatively on the news that the economy contracted with a 32.9% drop in GDP, but by the end of the trading day major indices barely recorded a blip. Markets rewarded the positive reports from the S&P top five tech giants that have been the overwhelming support for a strong US equity market. Amazon, Apple, Facebook and Alphabet all beat quarterly earnings expectations – ironically, while all four were also responding to a Congressional grilling.

US Dollar: The positive trajectory of equity markets, especially in the context of the disconnect between the real economy and financial markets continues to persist with investors looking to any crystal ball that will give them guidance on where equity markets go from here. One factor to consider is the depreciation of the dollar and implications for a weaker dollar on equity markets in the medium term. While the dollar has depreciated from its highs reached at the peak of the crisis in March, it is interesting to note that it is still very firmly trading within the same band over the last five years. The chart below indicates that despite the moves in 2020, the dollar remains in line with the previous 5-year period.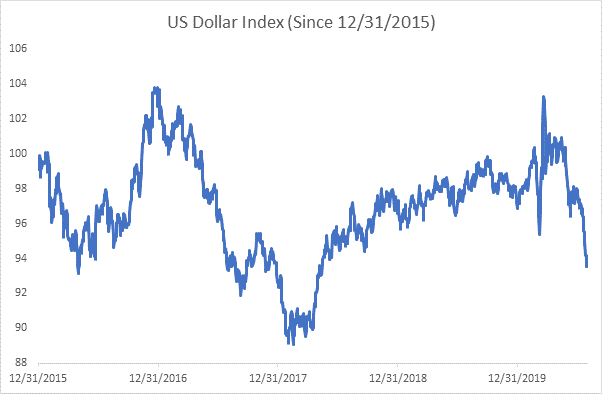 The dollar's moves this year are not surprising. Investors desperate for a flight to safety raced the dollar higher in the turmoil of the pandemic. The subsequent decline in the dollar now reflects in the shorter term a worry about the US economy and the need for the Fed to continue stimulus at all costs – weakening the dollar concurrently. However, not all is lost for investors with a weaker dollar. Depreciation of the dollar helps exports which is a net positive for most US companies. Around 40% of the S&P 500 companies have earnings outside the US. For these companies, a partial boost is coming due to the dollar even if they maintain status quo in terms of earnings. This can then lead to better US corporate earnings without a significant improvement in company growth though still propelling stocks.

The impact from the dollar on US corporates is especially striking in the top five stocks that have already been the true winners this year. Apple, Facebook, Alphabet and Microsoft all derive approximately 50% or more of their revenues from outside the US. A continued weak dollar coupled with the Powell Put among other factors may potentially lead investors to continue favoring a healthy allocation to US equities.

Much of the dollar's decline has been against the Euro this year. The positive momentum in European markets as a result of cooperation among EU leaders and improvement in virus cases has been in sharp contrast to paralysis in the US. Potentially a harbinger for the Euro that over time may offer investors another robust and liquid alternative to the dollar.

Despite the headlines of doom and gloom on the US economy, innovation among US companies is still alive and well and not to be discounted in assessing future equity markets. While a global pandemic has caused wholesale industries to shut down temporarily, it has also spurred creativity and thinking outside the box by corporates forced to adapt to a new environment. Companies that were already diversified have been able to leverage businesses not as sensitive to the behavioral shifts caused by the virus. Airlines, devastated by the decline in passenger air travel are making up for lost revenue wherever they can. By buckling cargo into passenger seats and filling overhead bins, planes that would otherwise have been grounded are at least temporarily offsetting some of the losses from traditional travel. Icelandair Group made a deal with logistics provider DB Schenker to remove the passenger seats from three Boeing 767 aircrafts to transport medical equipment from China to Europe and the US. Addressing significant challenges in supply chains and transportation and logistics of goods.



Europe:

The EUR/USD reached its highest level since September 2018 – to the benefit of European equities versus US, and thus far the currency appreciation has not appeared to be a significant hindrance to the region's corporate results. With 42% of European companies having reported Q2 earnings, the average surprise has been above average at +9% on an equal-weighted basis. The outlook for European equities from here does not look too bad. The region's flash composite PMI in July was 54.8, indicating a sharp rebound in manufacturing activity. Meanwhile, infection rates remain low relative to the US as reopening continues.
The Summer Analysts have fully hit their stride as their work programs are coming to an end in mid-August. We look forward to sharing more news of our Summer Analysts' final presentations over the course of the coming weeks.

The RockCreek team has maintained a strong sense of community over the past few months while working remotely. Our team has been staying connected with morning coffee sessions, book clubs, guided meditations, and more.

We hope you, your families and teams continue to stay safe and healthy. We are always eager to learn of more ways in which we can help uplift communities during the crisis, please let us know if you are aware of any opportunities and ways in which we can get involved.

Team RockCreek