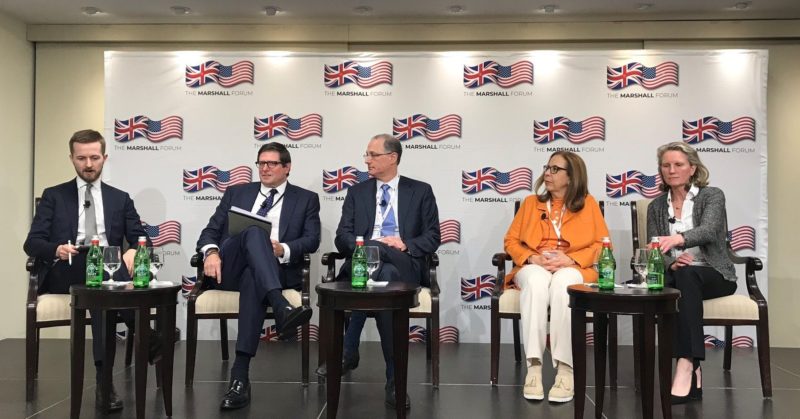 Afsaneh Beschloss, Founder and CEO of RockCreek, participated in the annual forum of The Association of Marshall Scholars on Thursday, April 11, 2019.

The half-day program – co-sponsored by The Association of Marshall Scholars, the Carnegie Endowment for International Peace, The British Embassy in Washington, DC, and the U.S. Embassy in London -- focused on strategic and economic efforts to support peace, growth and prosperity, with the aim of furthering transatlantic dialogue and exchange.

Beschloss was part of a panel on global markets, monetary policy, emerging markets, and trade policy. Other panelists were: Isobel Coleman, Chief Operating Officer, Give Directly; David Golub President of Golub Capital; Mark Shafir, Citigroup – Global Co-Head of Mergers and Acquisitions, and Global Head of Technology, Media, and Telecommunications; and John Tuttle, the Global Head of Listings of NYSE Group. The panel was moderated by Henry Curr, economics editor of The Economist.

"One of the important things to look at is not just the immediate growth in our economy, but looking beyond that," Beschloss said during the panel. "A lot of sectors are showing that they might be slowing down." She noted the huge uncertainty generated by the US-China trade dispute was weighing on global growth.

Among other topics in the hour-long, wide-ranging discussion, the panelists explored the global impact of China's monetary, fiscal, and industrial policies. Beschloss pointed out that China was not only evolving from a manufacturing-centric economy to a services-centric economy, but that within services it was rapidly developing artificial intelligence, high-speed railways, and other advanced technologies. "So when you look at all that growth, if you are sitting in Europe looking at [questions such as] 'Where am I going to sell my goods? Or where are things happening?' you can't ignore China."

Noting discussions during the spring World Bank-IMF meetings about the long-term possibility of moving from a dollar-based reserve currency system to a multi-currency system (dollar, renminbi, euro), Beschloss said, "Those are all things that even a year ago were not in the talk."

You can listen to an audio recording of the hour-long event here.