In April, Cherie Blair, chancellor of the Asian University for Women and wife of former British Prime Minister Tony Blair, led a lunch discussion on women's access to higher education with RockCreek team members and friends at RockCreek's headquarters in Washington, D.C.

Blair said her experiences as a first-generation university student and later as a female law student led her to politics and ultimately her leadership role at AUW. She talked about the educational opportunities available to women around the world, underscoring the pervasive lack of access to higher education.
"I was incredibly lucky to be born when I was, where I was, at a time when opportunities for women were opening up," Blair said. However, such luck did not prevent her from encountering discrimination. Upon graduation, she was told by many law firms that they did not hire women. This inspired her to become more involved in organizations that empower women, such as AUW.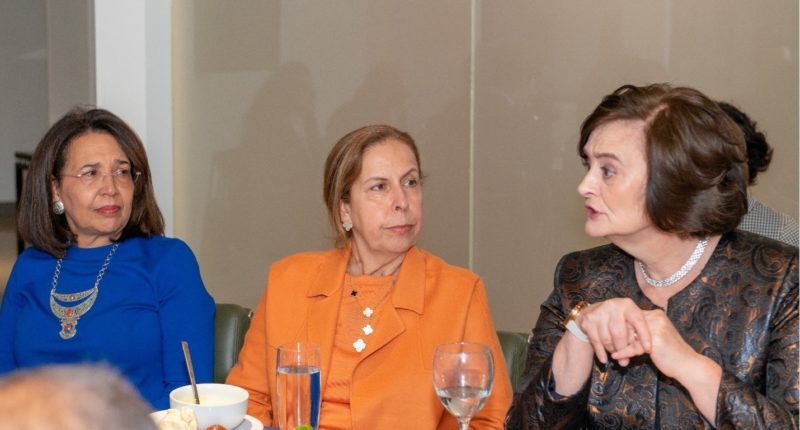 Opened in 2008 as a fully independent university located in Bangladesh, AUW educates young women who would otherwise not have such an opportunity. According to its mission statement, the university "seeks to graduate women who will be skilled and innovative professionals, service-oriented leaders in the businesses and communities in which they will work and live, and promoters of intercultural understanding and sustainable human and economic development in Asia and throughout the world."
RockCreek has long supported AUW and its students. We are providing a full scholarship to an AUW student, Tofrida.
Tofrida grew up with her three sisters and three brothers in Rakhine State in Myanmar. To escape the mounting conflict there, she and her family fled to Bangladesh in 2017. Tofrida first learned about AUW while staying at a refugee camp. She and her family were thrilled to learn about the opportunity.
Tofrida is currently enrolled in Pathways for Promise, a year of pre-university study designed for women who have not had access to high-quality English-language and mathematics lessons. After she completes the program, she will enter the one-year Access Academy, followed by the three-year Undergraduate Program at AUW.
Tofrida is currently competing in a contest sponsored by the Hult Prize Foundation to solve pressing social issues. Her submission proposes a solution to poor environmental conditions and waste management in her community.
Tofrida said, "there are a lot of uneducated women in my community and we face constant discrimination and violence." She is determined to obtain her degree, develop the skills and expertise necessary to become a leader and become an international development professional. AUW helped Tofrida regain her confidence, and RockCreek is proud to support Tofrida as she achieves her dreams.
RockCreek strives to support a diverse set of communities and people both in our charitable efforts and in how we run our business. RockCreek invests more than $1.3 billion in investment firms that have diverse leadership and ownership, in addition to underlying investments in companies with a diverse management team. Our internship program also welcomes about 30 young professionals who come from a wide array of socioeconomic backgrounds.