Canada's economy is slowly rebounding, and Prime Minister Justin Trudeau aims to keep it on track with energetic pitches for a diverse array of industries. 
Trudeau met with RockCreek Founder and CEO Afsaneh Beschloss in Toronto on Monday, October 15th following the Fortune Global Forum, in which they both participated. Beschloss attended the conference along with RockCreek Managing Director Alifia Doriwala. During the conference, Beschloss was featured on the "Global Investment Strategies" panel (video here and article here) along with Wei Sun Christianson, CEO of China and co-CEO of Asia-Pacific, Morgan Stanley; and Mark Machin, president and CEO, Canada Pension Plan Investment Board.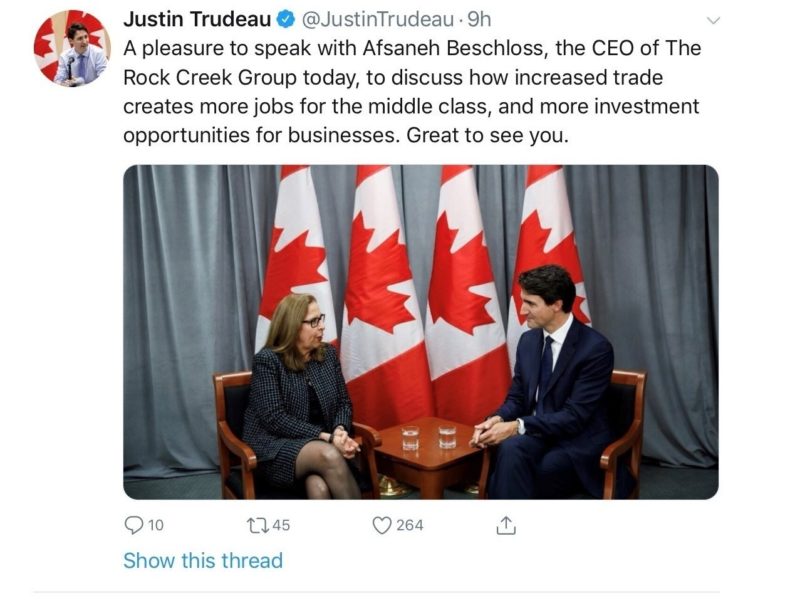 In a wide-ranging conversation over the course of 30 minutes, Trudeau spoke with Beschloss about investment opportunities in Canada's infrastructure, agriculture and other natural resources. He noted the momentum in these areas, and said investors can take advantage of future growth. 
Large Canadian pension plans are seeking to invest more inside Canada, he said, and the government hopes to encourage them, along with foreign investors, to increase their knowledge of investment opportunities. He and others across the Canadian government have been stoking this interest through the "Invest in Canada" initiative, he said.
Trade issues, including China and the U.S.-Mexico-Canada Agreement (USMCA), came up during the conversation. He said he wants Canada to be at the forefront of the conversation about the health of the global economy, and that he believes freer trade is good for Canada, provided it is advanced in a balanced way. 
Video of the prime minister's speech at the conference is available here. Following the meeting with Beschloss, Trudeau tweeted out a picture of the event.